SoftLay MBOX to PDF Converter Tool
Right Way to Convert MBOX to PDF File Format - SoftLay MBOX to PDF Converter
MBOX to PDF Converter is best suitable for forensic users who want to convert their client emails into pdf file format. If you are working in a court then you must have your client unmanageable information in mbox emails and if you want to submit your evidence in court then you need all the evidence into pdf file format not in email format as after you can then print your pdf file into paper documents. Then MBOX to PDF converter is the best and right solution for you.
There are many email clients which saves there Emails in MBOX file and for those MBOX file conversion we have produced MBOX to PDF Converter. Using SoftLay MBOX to PDF Converter you can convert MBOX file of Thunderbird, Evolution, Eudora (MBX), Apple Mac and Entourage into PDF file format of Adobe Acrobat.
MBOX to PDF Conversion Tool - It will let you manage each and every email of MBOX into print format so that you can collect all email messages of MBOX file in more user-friendly format and that can be MBOX to PDF. If you want to print all the emails into single PDF then this MBOX to PDF Software is made for you.
MBOX to Adobe PDF Converter Provides
Renaming options for PDF files
Support BULK/GROUP MBOX to PDF Conversion
Very useful for forensic users
Saves attachment as embed in PDF and as Separate folder
It keeps RTF and HTML formatting
How to Convert MBOX to PDF?
First you need to choose one option from the below buttons which you can see after installing the software to select your MBOX file or MBOX File Folder or you can clear the list of selected MBOX by choosing Clear file(s) option.

Second after selecting the MBOX file or Folder you can choose the File Naming option which means how you want to save your PDF file by Subject, Subject + Date (DD-MM-YYYY), From + Subject + Date (DD-MM-YYYY), From + Subject + Date (YYYY-MM-DD), Date (DD-MM-YYYY) + From + Subject, Date (YYYY-MM-DD) + Subject + From, Date (YYYY-MM-DD) + From + Subject, Date (MM-DD-YYYY) + Subject + From. These all options will help you to save and find your converted PDF file.

Third after choosing the right and easy option by you to save PDF you have to tick Save Attachments option and then you can choose Save Attachments & Embed in PDF file option or you can choose Save Attachments in Separate Folder option to show output of your MBOX file into PDF format.

After selecting all the options now click on Convert button and conversion will be start for all your MBOX files.
Note: If you are a forensic expert and want to extract your client MBOX into PDF then SoftLay MBOX to PDF software will be a great research for you.
Here Are Some Features of MBOX to Adobe PDF Converter
Benefits of MBOX to PDF Converter Software
---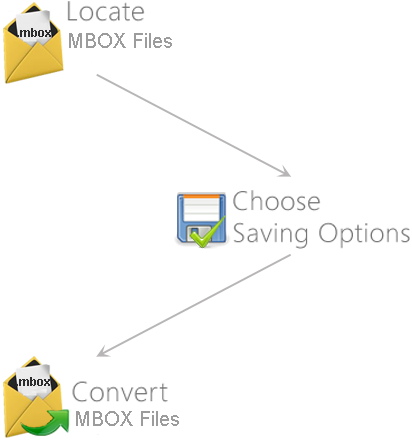 Steps for Installation of MBOX to PDF Converter - SoftLay
Step1 - Download and install SoftLay MBOX to PDF Converter
Step2 - Select MBOX file or Folder having mbox file choosing Single mode or Batch mode
Step3 - Choose file naming option in which you want to save your converted PDF files
Step4 - Now last but not the least click on convert button to start the conversion of MBOX to PDF file.
---
Download Limited Edition of MBOX to PDF Converter
Demo version of MBOX file to PDF file converter only converts 25 emails from each mbox file into pdf format. For complete conversion of mbox to pdf file you need to get its licensed edition.
Download Now
Version 8.2 Buy Now Online
Price $39
If this version does not work for you then please try our MBOX Converter to perform MBOX to PDF conversion.